"Friday" by Rebecca Black is featured on Just Dance: Girlie Edition
Dancer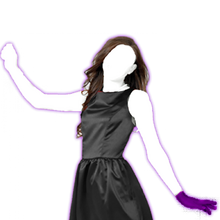 The dancer is a child teenager (around 11-12 years old). She is very happy because in the song, it is almost Friday.
P1
The coach has the following:
She has black hair.
She wears a black dress with heels
She has a purple glove and has a purple outline
Background
The background starts with an alarm clock that is set to 7am, then a bowl of cereal. Then the bus stop, and a time lapse of the road from day to night is shown. A first person mode of someone driving a car is shown day up to night. Then a calendar is shown marking from Thursday up to Sunday. Then at the last chorus everything reverses, it goes back to the alarm clock.
Gold Moves
There are 8 gold moves in this routine.
Gold Move 1, 2, 3, 4, 5, 6, 7 and 8: In the part of the chorus where the people shout Yeah, you must fist pump through the air.
Trivia
This is the first and only song of Rebecca Black in the game.
Unfortunately the rap part is not included.
Gallery
Videos