The wiki about Just Dance fanmade blog games!
Before going elsewhere on the wiki, read the rules so you don't get punished!
Before creating a page, or games, check out our guides to help you.
Need help? Have a question or clarification? Problem dealing with other users? Talk to our admins - HappyDancer10, HeypplsOfficial, JD4SURVIVOR, JDisbae, JDLover12, Kafluffle101', TheEmmaShow, YoSoyAri, ZodiacGiraffe and MrFlamur. Post on their message wall and they will reply as soon as possible.
Article of the Month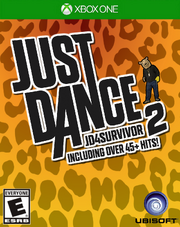 Just Dance: JD4SURVIVOR 2 is the second installment in the Just Dance: JD4SURVIVOR franchise. The game will be released on April 20th, 2019 in the United States and Japan, and June 9th, 2019 everywhere else in the world.
Click here to see the article.
Announcements
This section will be updated should any important matters or affairs arise.
Latest News
The wiki shop is now open! The theme is "Just Dance Forever!".
Endless Polls
Refresh for another poll.
Random Fact
Where My Baes At? was actually performed by Colleen Ballinger, also know as Miranda Sings.
Blogs
Create blog post
Blogs
Oh my! I've been inactive for such a long time. But I should clarify some points about what happened during my inactivity.

I haven't finished the supposed Visual Novel due to my story writing skills.

I've been having a lot of depressions lately.

School is tiring.

I love this wiki and I hope people are …

Read more >

Teaser 1: You'll be tripping

Teaser 2: Get ready for it

Teaser 3: You'll be a mess

Teaser 4: Find the light to get away from the dark

Teaser 5: Give your heart to break

Teaser 6: I will just come to say hello

Teaser 7: Sending love to new lovers

Teaser 8: Where are you? Japan?

Teaser 9: You'll get the veno…

Read more >

WIP! Credits to SonristasPF and JDLover12 for all album coaches used for the fanmade Kids Mode squares! Request songs if pleased! Squares

Read more >
See more >