"What Do You Mean?" by Justin Bieber is featured on Just Dance You, and Just Dance You 2.
Dancer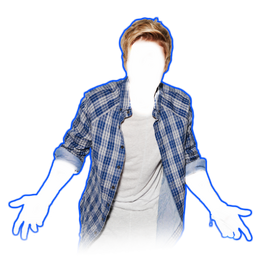 The coach is a male that represents Justin Bieber.
P1
The coach has the following:
Brown hair
A blue & grey button up with a gray shirt underneath
Black skinny jeans
Black Converse
Just Dance You 2 Remake-
Coach has a higher-quality look, and a glove.
Background
The background represents a 3D room with lots of moving triangles, forming into each other. Each triangle is blue.
Gold Moves
There is 1 Gold Move in this routine.
Gold Move 1: Cross both your arms on your chest.
Mashup
The mashup has these songs in sequential order:
Junto a Ti
Born This Way
Boys (Summertime Love)
Dark Horse
Daddy
Bad Romance
Hit The Road Jack (Line Dance)
Helping Twilight Win The Crown (Aftermath Remix)
Lean On
Get Ugly
Fancy
Appearances in Mashups
What Do You Mean? appears in the following mashups:
Hello
Bouncybob
It's Been So Long
Video Game Music Mix
Captions
What Do You Mean? appears in a Party Master Mode
Here is his captions: 
Wow / Stop / Please
Nod / Fumble / Go Crazy
Finger Party / No / What?
Trivia
In the Beta Version of Just Dance You 2, the colors were changed, from blue to yellow.

The day before the release, the colors were changed back to its' original color.

This is the first Justin Bieber song in the series. This is followed by Love Yourself, and Sorry.
Gallery